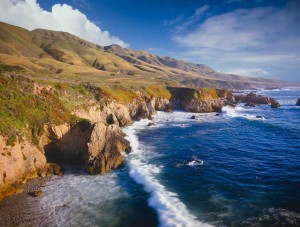 California cities have a lot to offer, but for the true California beach experience, hop in a car, roll down the windows – or better yet, roll back the top – and cruise along California's beautiful coastline. A drive can take three days or three weeks depending on how much time you have to take in the views, try out the seafood, and go for a swim.
Santa Cruz, just South of San Francisco, claims to be "the Original Surf City," and boasts a variety of surf shops and seafood restaurants to prove it. The main attraction is the boardwalk with a tall, wooden roller coaster, a ferris wheel, and a 1911 carousel among other rides. For a slower pace, but a lovely view, walk along the pier that stretches into the ocean. You can stroll to the end, popping in for a surf sweatshirt or fried calamari.  But a detour down the stairs toward the barking leads to sea lions lying on the pilings and flopping up on the platform. They want to be left alone, but don't mind being watched as they laze around and lap up the waves.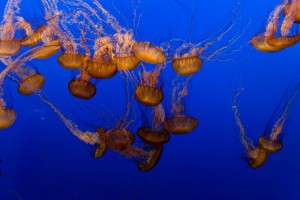 Next along the coast is the tourist town of Monterey. It used to be the gritty home of the characters in John Steinbeck's novel Cannery Row, in which he described the town as "a poem, a stink, a grating noise, a quality of light, a tone, a habit, a nostalgia, a dream." But now the town is less grit and more shopping – a tourist hotspot where you can have a plate of oysters and watch sea otters play in the water. It is also home to Monterey Bay Aquarium, which has an astounding collection of sea life swimming on display, including penguins, a kelp forest, and an open sea exhibit that includes jelly fish, sharks, and turtles in one enormous tank. And if you aren't familiar with sea otters, they are possibly the most adorable creature ever. A tall tank at the aquarium allows visitors to watch them swim underwater, and then go above water where they surface and play.
Farther south is the Cyprus-dotted 17-mile drive past and through the Pebble Beach golf course, which offers dramatic views of the ocean, as well as sea lions and, if you are lucky, harbor seals. A map hints at places along the way to stop to see the plants, wildlife, and ocean views. The Lone Cyprus is a tree that is celebrated for its tenacity as its roots cling to the rock it lives on. At Bird Rock, you can smell and hear the animals before you can see them. Peek through the viewing glasses out toward the huge rock to watch the sea lions and harbor seals sleeping, hopping over each other, and diving in the water. And at Point Joe, you can pause to watch the waves crash violently against the turbulent cliffs.
A short drive down the coast is Carmel-by-the-Sea, a romantic city with bed and breakfasts, art galleries, and charming architecture where house eaves curve around and little doors and gardens hint at elves or gnomes around every corner. Clint Eastwood was once mayor of the town. The beach is just a short walk off the main street.
The next stretch of Highway 1, generally known as Big Sur, has some of the most spectacular views available of the Pacific Ocean. The road winds along the edge of the coast, rarely leaving sight of the water. The wandering road requires full attention, but thankfully for the driver, there are vista points to pull off and take in the dramatic views – of the cliffs, horizon, and waves. If you are lucky, as we were, you can just catch a picture of the sun sinking from a sky of colors into the water.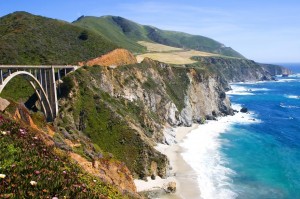 At the end of the drive is San Simeon where you can tour the grand Hearst Castle or picnic along the coast. Nearby is Pasa Robles and over 180 wineries, specializing mainly in Cabernet Sauvignon, Merlot, Zinfandel, Syrah, Chardonnay, Petite Syrah, and Sauvignon Blanc. It is easy to spend a day popping from vineyard to vineyard for a tasting, or it is a relaxing break in the drive to duck into a tasting room and try a local bottle.
The central beach towns are Morro Bay, Pismo Beach, and San Luis Obispo.  Any of them is a nice place to rent bikes or buy a kite and head to the coast, but each has its own distinct features. Morro Bay has an enormous rock, formed from plugs of extinct volcanoes, that is a preserve for peregrine falcons. Pismo Beach has sand dunes to climb on and a 1,200 foot pier. San Luis Obispo is a good place for ballooning, biking, hiking, and, of course, surfing. Whether or not you actually hit the waves, there are plenty of well-known surf shops to pick up a sweatshirt, including Pancho's, Moondoggies, and Wavelengths.
One note on California cuisine – it's fresh and good and worth stopping at along the way. Almost anything grows in California, and the roadside in certain areas has plenty of fruit and vegetable stands for a just-off-the-vine-or-tree flavor that is better than anything you can ever get at a supermarket. There are also the prices – such as 10 avacados for $1 – that are enough to make you drool. For barbeque, stop at any tri-tip stand in Santa Maria. Tri-tip is a delicious cut of meat not well-known outside of California, but adored in the state. You can eat it in a sandwich or just chow down on hunks of it. And if you want some fish and chips, clam strips, fried calamari, or delicious fish tacos, a stop at Neptune's Net at the end of Malibu is a must. It's also a favorite stop for local surfers who park all along the road to dive into the waves just across the street.
As an end to the roadtrip, it's hard to pass up Santa Monica. It has the oldest pier in California, which includes an amusement park, arcade, aquarium, and even a trapeze school. Nearby at Venice Beach, known for its artistic flavor, you can rent some rollerblades and cruise along Muscle Beach, where outdoor equipment, including parallel bars, rings, and jungle gyms are available for use. It's also good for people-watching to catch some of the more eclectic styles of California dress and hairstyles.
Drake Lucas is a former journalist based in Brooklyn, now working in communications for a non-profit organization. She loves a good travel adventure wherever it comes, whether it's a spontaneous safari in India or stumbling onto a movie set during a hike in Yosemite. Follow her on Twitter: @drake_lucas.
—
Need more of the gorgeous California coast? Consider another perspective — we love this article about California by rail. Contact California Tours today for your own customizable California coast vacation package!