New York Trip
May 16 – 19, 2024
IMPORTANT TRAVEL DETAILS:  May 16 – 19, 2024 New York Trip is designed for students with afternoon flights. All participating students must arrive JFK on May 16, 2024 prior 2 pm meeting and depart on May 19, 2024 after 5:30 pm. New York trip is exclusively designed for ISE, SMG and CASE students. New York trip is accompanied by ISE, SMG and CASE chaperones with professional tour guide. Airfare is not included in the trip.
Terms and Conditions
Deadline March 18, 2024
To confirm, parent's signed authorization form is required within 15 days from reservation.  Please make a reservation using trip calendar by entering your program reservationc code. Airfare is not included in the trip.
Remaining balance is due by March 18, 2024 with flight and medical insurance information. Cancellation charge is 100% of trip price if cancellation is made after March 18, 2024. If flight information and signed waiver form are not turn-in by March 18, 2024, reservation will be cancelled and refunded less $200 initial non-refundable deposit. 100 % cancellation charge if trip is cancelled by student after March 18, 2024. Reservation cancellation for non-payment if full payment is not made by March 18, 2024. Once reservation is cancelled, there is no credit to future services nor refund. In case of medical emergency, accompanying ISE chaperones are responsible for medical arrangement.
Late arriving students on delayed flights will be met by ISE/SMG chaperone and connect with the main group from Hard Rock Café Times Square. Late arriving students are financially responsible for JFK transfer to connect with the main group.
Full refund is provided in case of trip cancellation due to insufficient sign-ups. Minimum of 30 student reservations to operate New York Trip.
All roommate requests must be arranged in advance by emailing roommate request to info@usastudenttour.com. Single triple and quad occupancy reservations/payments are allowed once roommate requests are made and accepted by USA Student Tour.

Trip Itinerary
Day 1, Thursday May 16 – Times Square and Midtown

2 pm Meet chaperones and tour guide @ JFK meeting location
2:30 pm Depart JFK New York city tour including Greenwich Village, Midtown and Radio City Hall and Times Square
7 pm Group dinner with Hard Rock Cafe
9:30 pm Check-in with Courtyard Edgewater

Day 2, Friday May 17 – Central Park and Top of the Rock

8:45 am Depart hotel for Carnegie Hall, Lincoln Center, Central Park (72 street – west side Strawberry Fields, Bethesda Terrace & Literary Walk) General Grant National Memorial and Harlem tour. Lunch on own
TBA After lunch walking tour of Central Park walk (Conservatory Garden and Jacqueline Onassis Reservoir) Museum Mile, Park Avenue, St. Patrick Cathedral and
Empire State Building ( photo stop)
TBA Dinner on own
7 pm Top of the Rock visit
9 pm Arrive hotel

Day 3, Saturday May 18 – Liberty Park and Wall Street

8:10 am Depart for Statue of Liberty tour
9 am Arrive Liberty Park ferry to catch earlier ferry.
TBA Mid day Wall Street and World Trade Center photo stops/walking tour
TBA Lunch on own near World Trade Center
TBA Afternoon tour including Little Italy, Chinatown, SOHO, St. Paul Chapel, Highline and Hudson Yard
TBA Dinner on own near Little Italy/Chinatown
TBA Evening NYC tour featuring Brooklyn Bridge Park and NYC Skyline
9 pm Arrive hotel

Day 4, Sunday May 19 – Coney Island

9:00 am Load luggage and depart for Brooklyn tour including Coney Island and Williamsburg.
Lunch on own in Coney Island Boardwalk
3 pm Depart Coney Island for JFK. Estimated driving time is 60 – 75 minutes
4:15 pm JFK Drop off
Price per person
30 student reservations required to operate this trip
$1010 Quad occupancy (4 students in a room with 2 queen beds)
$1090 Triple occupancy (3 students in a room with 2 queen beds)
$1230 Double occupancy (2 students in a room with 2 queen beds)
For quad & triple occupancy, all roommates must be pre-arranged
Single quad & triple occupancy reservations are not accepted
Prices Include:
Three nights accommodations with Courtyard by Marriott Edgewater
Professional step-on guide/group leader per coach for 4 days
Private coach transportation – 56 seat coach for 4 days as listed on the itineraries
3 hotel hot continental breakfasts
Admissions to Top of the Rock and Statue of Liberty Cruise
Driver gratuity
Fuel surcharge, tolls and bus parking
All taxes
Prices Do Not Include:
Airfare
Meals and beverages (except when mentioned)
Hotel and airport baggage
Travel insurance
Tour guide gratuity
---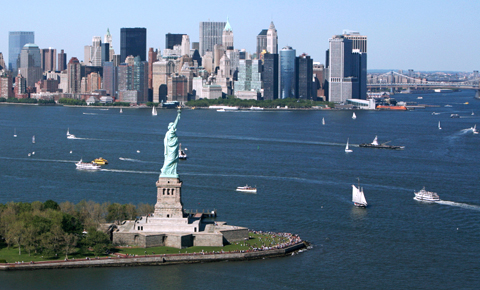 The Statue of Liberty towers 151 feet over Liberty Island, welcoming domestic and international visitors to New York Harbor. Some four million visitors come to Statue of Liberty National Monument annually, a designated national park that includes the statue, Liberty Island, and Ellis Island.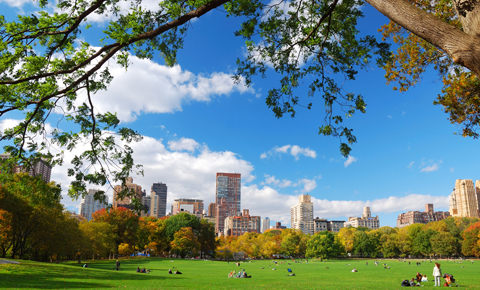 The skyscrapers of Midtown Manhattan surround the lake at Central Park in New York City. Established in 1857, Central Park is the most visited urban park in the country, with more than 40 million park-goers each year. From the bandstand to the horse-drawn carriage rides to the zoo, the park contains a number of cultural touchpoints that help make it one of the most filmed locations in the world.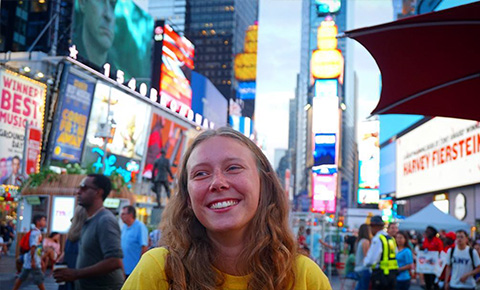 Photo by ISE
The heart of the Big Apple is Times Square, the bustling intersection near Broadway where gigantic video screens and electronic billboards keep the lights bright in the "City That Never Sleeps". More than 300,000 visitors come to these pedestrian-friendly five blocks of downtown New York each day. Times Square is a center for shopping, dining, and sightseeing. Mingle with people from all parts of the planet as they make their way to the "Crossroads of the World".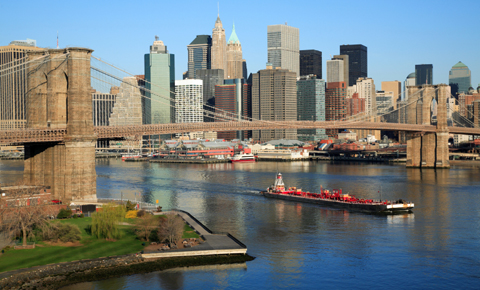 The Brooklyn Bridge over the East River is one of the many recognizable New York sites. The first steel-wire suspension bridge ever constructed, the bridge connects the boroughs of Manhattan and Brooklyn. Our New York package includes tours of both Brooklyn and Manhattan as we explore the familiar sights and sounds of the country's largest urban area, home to 8.5 million people.
Enjoy panoramic views of New York City from atop the Rockefeller Building in midtown Manhattan. Your trip includes admission to the elevator systems that whisk you to the "Top of the Rock" for pristine views of Empire State building, the Crysler building and the rest of Manhattan.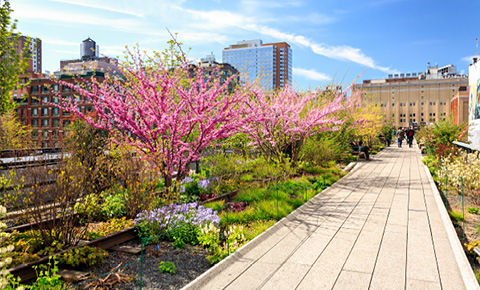 Until 1980, the High Line was an elevated train line serving the West Side of Manhattan. But it's now one of the most innovative parks in the world, serving as a greenway and rail trail offering unparalleled views of the city, removed from the bustling traffic below. Exotic plants and intriquing artworks provide fantastic photo opportunities as you walk the 1.45 mile length.
---